Blog
The St Mary's blog is a mixture of news pieces and topical articles. Each month a number of these are collated into a printed magazine, Touchline.  Blog items over three months old are moved to the archive pages, which are available when logged in. Views expressed here are those held by the individuals posting, and not necessarily representative of St Mary's Church.
Please log in to display a button below to enable notifications when a new blog entry is published.
What is Mission? (David Brunt)
What is mission?

I wonder how you would answer that if asked?
I have recently stepped down from a leadership role for a Christian charity that had mission in its title. For the three years I was there I had been struggling to adequately define what biblical mission is - without being too reductionist. I came across a short paper on mission that helped me enormously. It is written by Chris Wright of the Langham Partnership - an organisation set up by John Stott.
I am hoping that my summary may help you as it has helped me to answer this important question.
Whose mission is it?
It is the mission of God. We have a part to play but it is his mission. A good description of it can be found in Ephesians 1:9-10 and Acts 20:27
"He made known to us the mystery of his will according to his good pleasure, which he purposed in Christ, to be put into effect when the times reach their fulfilment - to bring unity to all things in heaven and on earth under Christ". 
Paul says that God's plan is to bring healing and unity to the whole creation in and through Christ. Chris Wright says "The mission of God is to redeem the whole of creation, broken by sin and evil, into the new creation, populated by the redeemed from every culture, through the cross and resurrection of Christ"
It is the plan of God from Genesis to Revelation and therefore the whole biblical narrative: Creation - Fall - Redemption - New creation.
So What?
What about us, and what are we here for in the context of God's plan? Fundamentally, God calls us to participate with him in fulfilling his own great purpose for creation and humanity. That is a big agenda.
Chris Wright helpfully summarises our role in God's mission (biblically) as:
Evangelism (proclaim the Good News of Jesus)
Teaching (teach, baptise & nurture new believers)
Compassion (respond to human need in loving service)
Justice (transform unjust structures in society)
Care of creation (safeguard creation and sustain life on earth).
What about the great commission - Matthew 28:16-20?
Doesn't this simply tell us to go and evangelise the world? It does but not just that. Chris Wright argues that this is not a single command but several and it starts with a statement that 'All authority in heaven and earth is given to me.'
"Everything flows from that. We build the church because Jesus is Lord of the church. We serve society because Jesus is Lord of every nation, government and culture. And we care for creation because Jesus is Lord of heaven and earth – 'the earth is the Lord's and everything in it.' "
So what does it mean for us?
1. That we embrace the full scope of God's Mission. We would call ourselves biblical evangelicals and that means we need to hold all that the Bible says together and not just focus on one aspect.
2. God's whole mission is for God's whole church (but everybody can't do everything). It is not a case of everybody doing everything, but everybody being intentional about something, according to the gifting and leading of God. Where does your gifting lie in these five areas? If climate change is your thing, then don't leave it for the non-Christians to do the heavy lifting.
3. The whole church's mission includes every church member (but we have different callings and sendings). We need to challenge the mistaken view that only some members are 'mission partners.' All of us should live out the calling of these five areas of God's mission, though some may be called to focus on specific areas full-time. We are all missionaries (or should be).
4. Every Christian's mission includes the whole of life (there is no secular-sacred divide). We must change our view of two spheres - that there is a 'religious' part of life that God is interested in - church, Christian activities, worship and prayer, evangelism, and there is the rest of life, where most of us spend most of our time – work, family, leisure. God is interested only in our whole life.
To summarise… Mission is not an agenda, to be tackled by people assigned to 'do it for the rest of us.' Mission is the mode of existence for the whole life of every member of the whole church. The whole paper by Chris Wright can be found here
Glued to Your Phone?
Since those first brick-like mobile phones appeared in the 1990s, technology has transformed all our lives. Computers and smartphones bring a world of information and entertainment to our fingertips. Social media lets us interact in new ways, and medical technology improves our health.
But technology can also be harmful. It takes advantage of our sinful hearts, fostering our greed and our lust. Tragically, it can lead vulnerable people into abuse and self-harm on a scale that wasn't possible before. And our devices can be addictive in themselves. The boss of Netflix has admitted that his TV shows are competing with our sleep, while the billionaire owners of social media companies limit their own children's access to the internet!
On Saturday 22nd July we were delighted to welcome Adam Thrift, from All Saints Crowborough, to help us think through these issues from a Christian perspective.
Technology is all about re-ordering raw materials to serve our purposes. And our unique purpose as Christians is to love God and love our neighbours (Matthew 22:37). So we should be asking how our devices are helping or hindering us in this purpose. How does your phone help you love God and your neighbours, and how is it stopping you doing that?
It was also helpful to consider the promises that technology makes. Whether it's Elon Musk's mission to Mars, or teenagers wanting to be influencers, technology usually promises happiness, convenience, and even eternal life (if you freeze your brain!). But the promises of technology will ultimately let us down. In Psalm 20, we're warned not to trust in chariots and horses – the cutting edge technology of the time. But the promises of Christ are wonderful and reliable! He's forgiven our sins, and promised us an eternity as children of God. What more could we want?
Technology is good, but we must guard against it becoming an idol. And seek help if we're unable to switch off. Adam wrapped up the evening with a helpful twist on the famous words of Robert Murray McCheyne. "For every one look at technology, take ten looks at Christ!"
If you'd like to explore this topic in more depth, why not read "God, technology and the Christian life" by Tony Reinke. "The tech-wise family" by Andy Crouch is also full of practical advice for parents. Many thanks to Adam, and to Ruth McElhone and the 20s-30s group for organising this event. Do let us know if there are other topics you'd like to explore together!
Holiday Club 2023 (Nick McDonald)
This year, we went 'Under the Sea' for our 2023 Holiday Club for children in Reception – Year 6. We had over 80
children in attendance. It was a super week of crazy crafts with Melinda Stylo and the 'crafty coral reef' team, silly games with Harry Thrift and his team, and brilliantly led music with 'A-sea D-sea', the 'underwater rock band' led by James Ainscough and John Croft. It was a really great week, and everyone was very enthusiastic and excited to be there. It helped having a life-size model of a yellow submarine, expertly built by Jon Harris.
A highlight of the week were the talks from James Dancer, Minister in Training at Windsor Fellowship Church. James taught us brilliantly from John's gospel, and from Revelation, showing us how Jesus is the Word, and he became flesh and lived with his people. We then heard that he died and rose again, he ascended into heaven, and we are now waiting for him to come back again!
Revelation 21:4-5 says:
'He will wipe every tear from their eyes. There will be no more death or mourning or crying or pain, for the old order of things has passed away. He who was seated on the throne said, "I am making everything new!" Then he said, "Write this down, for these words are trustworthy and true."'
To go along with this, we sang this very catchy song from Awesome Cutlery, which wonderfully expresses how much we have to look forward to as Christians: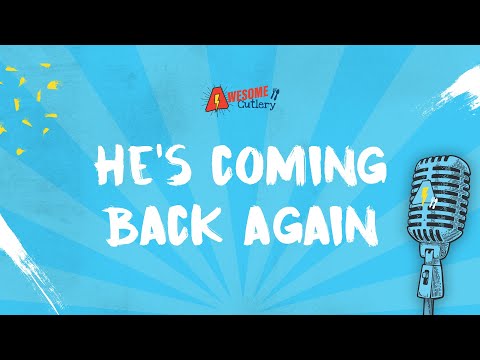 Very sadly I wasn't able to attend Holiday Club on Thursday and Friday as I became ill. While I was hugely disappointed that I couldn't be there, it was incredible to feel so supported by this wonderful church family. Almost 95 volunteers were involved in some way with Holiday Club, and I am so very thankful for all of them. In 2 Corinthians 12, Paul quotes the Lord Jesus saying 'My grace is sufficient for you, for my power is made perfect in weakness.' How wonderful that the Lord is powerfully at work, even when we are so weak.
Thank you everyone, see you all next year at Holiday Club 2024!
Windsor Fellowship Update (Tim Hiorns)
We're so grateful for your ongoing desire to hear about church life here at Windsor Fellowship Church, and for how you partner with us in prayer.  I thought it would be helpful to share two outreach initiatives that we are excited by.
Busbees  

This parent and toddler group been going since the end of the first covid lockdown, having been started by a couple of mums. The vision was to create an environment where parents can find support, where relationships can flourish, and where Jesus and the gospel are a natural part of what is talked about, not just with the children, but also amongst adults. The group is intentionally quite small in order to foster the sense of a safe and welcoming environment. Give thanks for some really committed attendees, and please pray for ongoing and wide-ranging gospel fruit.    
Street Outreach

We are conscious that there are many people living in Windsor who don't have anyone who talks to them about Jesus, plus of course the thousands of tourists who visit each week. And so, as we seek to be a Great Commission shaped church, we realise that we mustn't just rely on friendship evangelism. To that end, our Minister in Training, James Dancer, has pioneered a new initiative along with a small but committed team. 
As a first step, we asked for help from one of our mission partners, Manmohan Singh, who works with London City Mission in Hounslow, where he is often to be found out and about chatting to passers-by. Spurred on by Manmohan's example and enthusiasm, a plan emerged to set up a small book table outside our church building (just off the main high street) at 2pm on a Sunday and seek to engage passers-by in conversation. A 'cookie for 3 questions' offer proved particularly popular! The most recent questions being 1) What's your name? 2) What was the best day of your life? 3) What's your biggest fear? The team have been surprised by how often this third question has led to an opportunity to speak of the comfort and hope that Jesus offers. 
Please pray for continued enthusiasm, including new team members, and for successful follow-up with contacts who have left a phone number, said they'd like to grab coffee to chat more or, in two cases, prayed a prayer of repentance. 
For Sale - One Yellow Submarine
One yellow (cardboard) submarine in need of a new harbour.
This summer's St Mary's holiday club 'Under the Sea' featured a cardboard yellow submarine which is now searching for a new port to drop anchor.
Can you help?
Condition - Very good. One careful owner. Only four previous moorings.
Size - fits a regular sized adult (or two small children) with ease. Length 5m, Maximum height 2.5m (with periscope up!), Width 4m (with propulsion jets attached).
Construction ....only the finest cardboard has been used; snap together construction, for easy assembly and dismantling.
Perfect for 
- children's parties
- Beatles' fans
- Summer festivals
- Alternative bonfire night centre piece
WARNING: Please be aware that this is not a functioning submarine and will not work in or under water.
Collection only.
If you would like to purchase the submarine please purchase on ebay with this link https://www.ebay.co.uk/itm/305113986309 

Looking Back, Looking Ahead (Luke Douglas)
I've come to the end of my two years as a Ministry Trainee at St Mary's and perhaps more significantly my twenty-three years as a member of the church family. In the last two it has been a great joy for me to be involved in so many different ministries all around the church. Working at a church is often a strange job, but particularly in that loving the people who you are serving, and serving with, is an important part of the job. It has been a great joy to feel the Lord growing me in the love that I have for the people in his church in Maidenhead. Feeling the love that the church family has so clearly shown me has been one of the key ways that our Lord has been growing this in my heart. From the oldest to the youngest people I have served or served alongside I have felt real genuine love. He has also grown me in his love as I have been taught by his word in the various ministries I have served in. There really is no community in all the world like the one that loves God and listens to his word, and I have really found St Mary's to be a community like this.
In the last twenty-three years as a member of the church family, it is hard to distil every way that the Lord has worked in me. When I was confirmed, I made the joke that I was a product of the St Mary's youth academy because the fact that I am following the Lord is a testament of the Lord's work through the church. In regard to this there isn't really anything I can say, but Hallelujah. For all the people who patiently taught me in Sunday school as I grew up, Hallelujah. For all the people who graciously ministered to me in the youth work, Hallelujah. For everyone who made up the church which taught me to love the Lord who bought us by his blood, Hallelujah. Let God be praised.
So now as I move on to serve the Lord as youth worker at St James in Gerrards Cross, my ask for all those who know him in Maidenhead is to pray for me. Pray the Lord will be at work in my ministry, otherwise there is no point to it.
'Unless the LORD builds the house, its builders labour in vain. Unless the LORD watches over the city, the watchmen stand guard in vain.' (Psalm 127:1)
Five Fruitful Days (Rae Binning)
I signed up for the five fruitful days course not really knowing what to expect, but thinking I needed some help to witness/evangelise. This turned out to be five evenings with a lovely group of us, some with English as a first language, some not. Jason and Laura Swain led us through some Bible verses each week, looking at being disciples, making disciples who then pass that on to others, so they become disciples, and so on, multiplying believers of the Word. It was really great to delve deeply in to just a few Bible verses each time, looking at them in different versions, putting them into our own language, telling someone else what that meant, even drawing Bible verses to gain deeper meaning. I came away energised in my own faith, really wanting again to 'love the Lord with all my heart, all my soul, all my mind and all my strength' (from Matthew 22:37). We practised "living out loud" and bringing God into our conversation naturally, and "shema" statements where we listen so as to obey the Lord. We all learned from each other as well, which was brilliant.

The lessons were simple but uplifting and so easy to put into practice so we can do this for those who do not yet know Jesus, whether that is family, friends or work colleagues. I definitely feel more able to talk to someone else about Jesus and bring him into my every day.
If you are interested in signing up for the course, or would like more information, contact Jason Swain on jason.swain@stmarysmaidenhead.org 
Holiday at Home (Pat Chapman)
What a grand time we had together last Thursday. It was a splendid day thanks to Rachel Meynell and her team.
We gathered at 11 o'clock for coffee. A group of us immediately got stuck into a Bible crossword which was quite challenging but with our combined brain power, and a few hints from Rachel, we completed it slightly ahead of another group, which rather pleased us! I believe craft activities were also available.
Then we had a most interesting and exciting talk/interview with Brian Bird about his adventure of a lifetime. In 1989 Brian had been a crew member on a sail around the world yacht race organised by Chay Blyth. To make it more difficult they sailed westwards against the wind and currents, often thousands of miles away from terra firma for weeks on end. The seas were mountainous and on one occasion while working on deck Brian was swept by a huge wave almost into the sea but somehow ended up with his arm hooked round a pole. Phew! Thank you, Lord! Also, Brian was able to pray for another crew member who had been suffering from sea sickness for three weeks and was in a very bad way. After prayer he slept for eight hours and awoke recovered. What an amazing answer to prayer! Meanwhile Hazel, Brian's wife, was at home teaching in school and the trip provided her and the children with a fascinating project for the six months that Brian was away. We were able to bombard him with questions around the table while we enjoyed our cheese, cold meats and salad lunch. And seeing we were on holiday we all had an ice cream.
The afternoon entertainment required our little grey cells to be at work again! Phil and Maggie Richards had organised a series of quizzes. Firstly, photos of locations in Maidenhead which we had to identify and locate on the map. Lastly, some very intriguing photographs each made up of three people and we had to guess who they were. There was one made up of Rachel, Ian Miller and Jon Drake. We got that one right, the others were more difficult. There were also some general knowledge questions. Thank you, Phil and Maggie.
We rounded off the day with tea or coffee and cake. Thank you so much to Tracy, Sandra and Wei who kept us fed and watered throughout the day.
It was a great day for fellowship and growing friendships.
Pat Chapman
Shards of Grace (Sandra Brunt)
We gathered in the vicarage garden to listen to Mark Meynell put his case for why we as believers NEED the arts.
So often I look at life through the familiar, the perspective with which I feel comfortable, but as a result I fail to find the fresh perspectives, the revelation of something I hadn't seen, heard or understood before.
Mark introduced us to some examples of visual artists, musicians, wordsmiths, playwrights and poets. Through their genius observations and insights, both seen and imagined, we can view the concrete and the abstract reality. We can begin to get glimpses of how the temporary touches the eternal.
Ask a fish about water and he will struggle to explain it to you because it is so familiar to him. The fish has little experience of a non-water world! So it is with us, we live in our own individual bubbles and have no or little notion of reality beyond ourselves. We are living in the immediate, a limited and false reality, and art can show us glimpses of the beauty and wonder beyond ourselves. Art can speak to us in ways we cannot speak to ourselves. Why the title 'Shards of Grace'? Shards are often pieces of something bigger that are broken, but shards give us clues to the wondrous beauty of the complete before it was broken. We know some of this as believers and we need to be reminded. Thank you Mark because we as Christians do NEED the arts.
I want to finish with a quote from a novelist whose work I have enjoyed and who I think exposes the false and reflects the real in her writing.
'All human nature vigorously resists grace because grace changes us and the change is painful.' The Habit of Being: Letters of Flannery O'Connor (1925-1964)
Mission Partner Update: iServe Africa
It was great to welcome Harrison and Rhodah Mungai, working with iServe Africa, to the recent St Mary's Evening and to hear news from Kikuya in Kenya.  Rhodah began by giving us an update on the family – they are all well, the boys have just broken up for their three-week summer holiday with Tim, the eldest at 14 years old, in the final year of his primary education.  He will be taking very important exams in October/November before starting high school after the Christmas long break.  Rhodah herself will begin a year's course in Biblical Counselling, so would appreciate prayers as she adds this to her already heavy schedule.
Harrison updated us regarding the Training Centre. The current programmes they run are:
Transform Discipleship Programme
Graduate Apprenticeship Programme
Missions (Next Steps)
Utumishi Course
Eneza Church Planting Programme
Harrison gave us some requests for how we can pray for their work, and we were pleased to spend some time praying for the following things:
Apprentices and Placements
Thank God for the 23 new apprentices joining in September. Pray that they shall go with confidence.
Pray for a teachable spirit for the apprentices that they would believe and live the gospel in all its wholeness.
Praise God for our placements. Pray that the apprentices would feel loved, accepted and that their service is appreciated.
Pray that the placement offers practical ministry and mentorship to apprenticeship in areas like pastoral, children's ministry and administration.
Pray for provision of resources for both apprentices and placements.
Pray for the upcoming Ministry Training Course later in the month - pray that the apprentices would be refreshed with the Gospel.
Pray that the Gospel shapes our living - that both staff and apprentices will live honourable lives, bearing fruit in every way.
Pray for provision of resources for the Training Centre project which is still under construction.
Pray for the organisation as we grapple with an attempted assault on one of our apprentices.


Pray too for the ongoing work on phase two of the building project, that funds will continue to come in and the weather will be favourable.
Harrison and Rhodah send their love and best wishes to their friends at St Mary's and thank everyone for their prayers.
Jenny Taylor
Staff Team News (Jon Drake)
One of the great joys of being Vicar of St Mary's is working closely with the staff team. I thank God for a team who are godly, gifted and faithful, and who love the Lord and his people. As a staff team we feel exceptionally well supported and loved by the church family, so thank you to you all. A number of staff members are taking on new roles within the team from September and some are joining or leaving the team. Please continue to pray for all the staff, and especially those whose role is changing.
At the United Church Sunday on 2nd July, Nick McDonald was commissioned as Children's Minister after three years as Children's Minister in Training learning the ropes from Kate Wheatley and studying on the Cornhill Training Course. It is wonderful to see how Nick has grown as a minister of God's word in these years and we give huge thanks for God's provision of him to lead our children's ministry.
From September Richard Crane will go part-time on the St Mary's staff team and begin training part-time for ordination at Wycliffe Hall in Oxford (where Will Stileman and I also trained). Richard will continue leading the 6:30pm congregation, assisted by me, but step back from leading Christianity Explored and his other ministry commitments at St Mary's.
Ian Miller has been a wonderful colleague for four years as Curate. I'm delighted that he is continuing on the team as Associate Vicar. We commissioned Ian to that role at United Church Sunday on 2nd July. As Associate Vicar, Ian will continue as Congregation Leader for the 4pm and 8am congregations. He will also take responsibility for our Growth Group study programmes, for Christianity Explored and our evangelism strategy.
Adam Curtis will join us at the end of August, also as Associate Vicar. Adam is currently Curate at Christ Church Sidcup in London. From the start of September Adam will take on responsibility for the 9:15am congregation. At some point during his first year he will take on responsibility for the 11am congregation too. I will miss being Congregation Leader for both of those congregations, but I will still be very much around and involved. It's good that they will have a dedicated Congregation Leader again and I can focus on overall church leadership. We won't have a Curate for the next year at least, possibly longer, so I am very thankful that we will have both Ian and Adam as Associate Vicars to provide leadership for our congregations.
Jan Strydom will leave the staff team this December as he and Elna complete the process of moving house to Wales. Jan has been just brilliant as Facilities Manager, maintaining and running the St Mary's site and other properties, and we will miss him hugely. Please pray for the Lord to raise up someone to take on this role.
It has been excellent having Luke Douglas as a Ministry Trainee at St Mary's for the last two years. I'm pleased to say that from September Luke is taking up a post as Youth Worker at St James Gerrard's Cross, which is one of our partner churches. We would love to have some new Ministry Trainees, to begin in September 2023 or after. These could be school or university leavers. Please do let us know if you know of anyone who may be interested in this role.
PCC Away Day (Paul Muir)
As this was my first PCC Away Day (10th June 2023), I was not sure what to expect, I arrived early to attend the introduction segment to find out more about what I will be doing as a part of the PCC and found it very informative. This gave a good basis for the remainder of day which we spent in prayer with each other and discussing the 3 essential items and 3 priorities for St Mary's as a whole. The essentials were 'Dependent Prayer', 'Biblical Teaching' and 'Loving One Another', the 3 priorities being 'Engaging Maidenhead with the Gospel of Jesus', 'Growing mature disciples of Jesus of all ages and backgrounds' and 'Partnering with other Churches to make Jesus better known'.
We split into two groups and discussed these items keeping in mind what St Mary's can do to forward these in a biblical and God-fearing way. Jon Drake was in attendance and found most if not all the feedback re-assuring and very helpful.
It was a good day of fellowship, worship and prayer and I understand why these days are so important for the church as a whole and helpful to everyone involved
PCC Proceedings (Phebe Tay)
The St Mary's Parochial Church Council (PCC) is a legally constituted body and a charity, which oversees the life and running of St Mary's, as we seek to know Jesus and make Jesus known, working alongside the Vicar and staff team. The PCC has certain legal and financial responsibilities and also acts as part of the spiritual leadership of St Mary's, considering any major decisions and future plans.
Most PCC members are elected at the Annual Meeting, which is held every April, and consists of our clergy, churchwardens (the lay leaders of the church), elected members, elected members to Deanery Synod (a group consisting of all Church of England churches in the Maidenhead and Windsor area), and members of other Church of England Synods.
The PCC currently consists of the following members:
Licensed clergy: Rev Jon Drake (Vicar), Rev Ian Miller, Rev Neil Watkinson
Churchwardens: Anthony Kan, Lindsay Reisser-Weston
PCC elected members: Sandra Brunt, Penny Dee, John Driscoll, Linsley Green, John Blackbeard, Catriona Ketiar, Karnie Sharp, Scott Bedford, MM
Deanery Synod elected members: Neil McDonald, Rhys Mitchell, Kate Wheatley, Rob Wingfield, Phebe Tay (PCC Secretary), Paul Muir
Members of other Church of England Synods: Gracy Crane, Daniel Matovu, Thomas Walton
In addition to the PCC, there is a Standing Committee which is a smaller team consisting of the Vicar, Churchwardens, and some PCC members, which can carry on the PCC's business between meetings and reports all significant decisions and proposals to the PCC for review and approval. The Standing Committee consists of Jon Drake, Lindsay Reisser-Weston, Anthony Kan, Phebe Tay and John Blackbeard. Rachel Meynell and Dick West attend as guests to provide support and guidance to the group.
The PCC meets every second Tuesday of the month, except for August. Dates may sometimes shift but this is outlined in the church calendar. Minutes of PCC meetings once approved can be found on our St Mary's website under 'Resources'. As the PCC are representatives of the congregations, please feel free to approach any PCC member if you would like to discuss an issue or suggest a topic for consideration.
We look forward to serving St Mary's in the year to come as we deal and navigate through a host of topics which you will see in the minutes and through the Touchline blog.